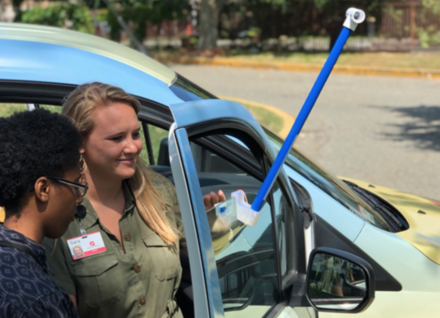 Urban areas in Vermont can feel much hotter than surrounding rural areas. This is referred to as the urban heat island effect. This results in increased risk for dehydration, heat exhaustion, and heat stroke in urban areas. Severe heat illnesses can be life-threatening. The risk is especially high for older adults who live alone and do not have air conditioning. Learn more about heat illnesses and safety tips.
With support from the National Integrated Heat Health Information System, the Vermont Department of Health is organizing a heat data collection and mapping campaign in all urbanized areas in Chittenden County during the summer of 2020. The findings from this campaign will improve our understanding of urban heat islands in Vermont, which will help us to work with partners to reduce heat-related health risks in urban communities.
How to volunteer
Volunteer signup is now closed. Thank you for your interest!
Each driving team (a driver and navigator) or cyclist will receive up to a $100 stipend for completing all three data collection windows, or a pro-rated amount for completing one or two windows. Preference will be given to volunteers that can commit to all three windows.
Volunteer responsibilities include:
Sign an electronic waiver.
Collect temperature data by car or bike at three different times (6 – 7 a.m., 3 – 4 p.m., 7 – 8 p.m.) during one hot day.
We are planning for seven driving routes and two biking routes. Because the campaign can only be scheduled a few days in advance, we realize not everyone will be available on short notice. We will attempt to assign volunteers to their preferred route but we may have to make adjustments based on campaign day availability.
For more info on volunteering, see the Frequently Asked Questions.
COVID-19 precautions
To maintain safety during the COVID-19 pandemic, we're following these precautions:
Volunteer training will occur online.
Data collection by car will be done by teams of one driver and one navigator who must be from the same household, using their own vehicle.
Pre-sanitized data collection equipment will be provided to you at an outdoor pick-up/drop-off site where we will be wearing face masks and interact from a safe distance. We strongly enourage volunteers to wear face masks when picking up and dropping of equipment.
Next steps
A 1-hour online volunteer training was held on July 22. Watch the training video or review the training slides.
The campaign day cannot be scheduled until the training is complete and hot weather (about 90°F or hotter) is in the forecast. We will alert volunteers several days before the campaign day to confirm their availability and assignments.
On the campaign day, volunteers will pick-up data collection equipment from a central location, complete data collection, then return equipment.
About two months after the campaign, we will post results to this webpage and let you know when they are available.
We will use the findings to increase awareness about heat risks in urban areas and work with communities and partners to reduce these risks.
For more information, contact ClimateHealth@vermont.gov.