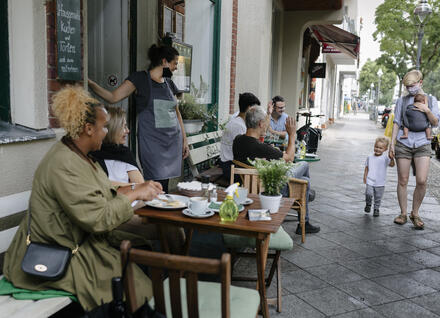 Get the Facts
What we know about COVID-19 continues to evolve, as does the growing evidence about the safety and effectiveness of vaccines. The Vermont Department of Health and Centers for Disease Control and Prevention (CDC) provide accurate, updated, and easily accessible data-driven information. Media sources sometimes report on COVID-19 with unverifiable evidence or incomplete information that can cause misinformation to spread and have unintended consequences. Being conscious of our social media consumption can help slow the spread of misinformation, and help with our overall mental wellness.
Kindness Matters
The COVID-19 pandemic upended our daily lives and changed nearly every aspect of how we live. As we continue to heal and reintegrate back into society, it is important to be kind to ourselves and others. The stress of the pandemic and the continued trauma are real. It is normal to have anxiety, fear and pain as things continue to shift. Be kind as we are all rediscovering where to go next.
Self-compassion can help us be more caring to ourselves and others. Activities like journaling, exercise, and eating nourishing food, among others can be useful as we move forward. Even reminding ourselves and others about our small and large accomplishments can positively affect our wellbeing.
 
Make Space for Healing
While our worries about the health impacts on COVID-19 are still present, so is the anxiety about how we move forward to this new reality. Identifying our triggers and specific concerns will help. Each of us may have different comfort and confidence levels. Taking a moment to check in about how we feel gives us a chance to build greater awareness. But what can we do to cope? How do we move on with the added burdens of these years? Are we alone in our experiences of worry? Using simple techniques, and engaging in conversations with others, can help us feel less overwhelmed and more supported.
Experiences Unite Us
By identifying our concerns and talking about our need for support, we can unite with others in this shared experience of grief, uncertainty, and hope for the future. Is there something you like to do and want to share with others? Finding a group to run or garden with can be a fun way to engage safely with others outdoors, while creating space to share our experiences. Not ready to meet in person? Keep using technology to communicate and talk about how we move forward.
Make Self-Care a Priority
Taking time for ourselves is even harder when faced with an emergency and its continued impacts. It may feel like just one more thing to do. But taking a walk, practicing stress reduction techniques, like yoga or mindfulness, or reading a fun book or article can shift our mood. These practices have also been shown to strengthen our immune system.
Build Back Healthy Routines
COVID-19 and concerns about getting sick changed our daily routines. Having our day-to-day practices disrupted or halted for a while can add to our anxiety. Building these routines back up could create another challenge. Starting today, we can create, or reimplement routines that support our well-being. Beginning the day with a walk outside, or a workout, can help us build in time for our own health. Choosing fun evening activities like watching a movie, writing in a journal, playing a musical instrument or a game, and of course, talking with friends and family can help round out a positive routine. Returning to group activities, remaining physically active, and making space for social engagement is key to our continued well-being.
Where to Go with Grief and Loss
Many people are still experiencing grief and loss from the pandemic. Maybe you lost a loved one and were unable to be there when they died. Or you might have been unable to mourn someone's death in the company of friends and family. Even if you haven't lost a loved one, some of us have lost jobs, health or time with friends and family. Grief is a natural reaction.
The scope of loss and grief is immense and takes time to process. Feeling grief or living with a general sense of loss may come as a surprise — especially when those feelings don't go away. The way each of us mourns or expresses feelings of loss is unique. Coupled with these hardships, the sense of renewal and reconnection can feel like a jarring contrast. Being aware of, and communicating about the broad range of emotions that will continue to come up will help us heal together.
Learn more about:
The Federal Emergency Management Agency (FEMA) is providing financial assistance for COVID-19 related funeral expenses. Learn more about COVID-19 funeral assistance.