Preventing substance misuse reduces the risks that contribute to alcohol, tobacco or other drug use – while promoting protective factors that support healthy lifestyles and communities. By stopping substance use before it starts, or before it becomes substance misuse, prevention also works to save Vermont tax dollars. 
Vermont Prevention Model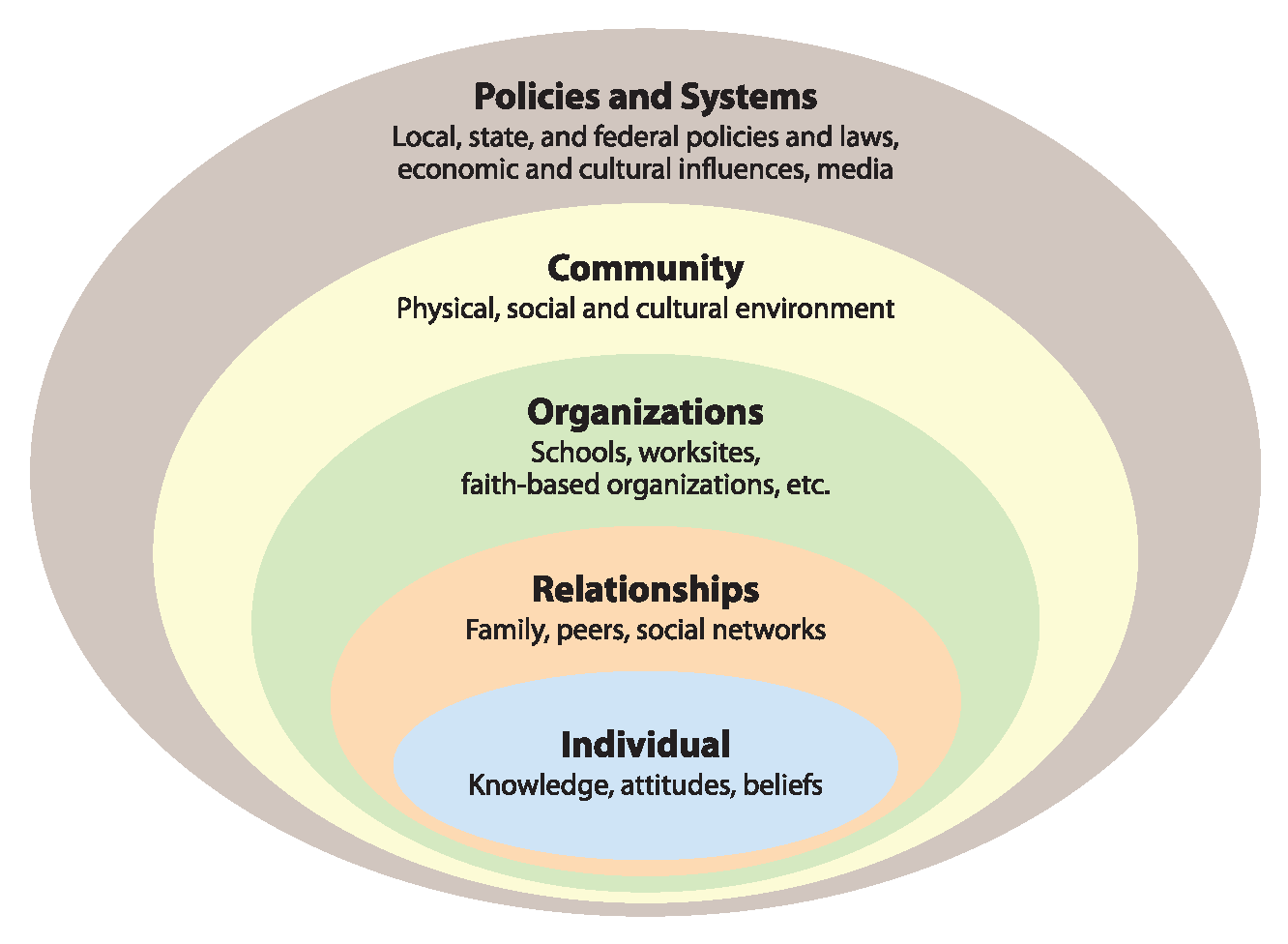 The Vermont Prevention Model shows how a variety of prevention strategies at different levels can be used together to get the best results for Vermonters' health and wellness.
What strategies make prevention successful?
Vermont's prevention efforts work best using the Six Strategies for Prevention:
1. Information dissemination
Media campaigns, social media, community forums, and health fairs
2. Prevention education
Curriculum or parenting classes that develop skills to resist pressure to use drugs, looking at the intent behind advertising, and developing other skills used in making healthy choices
3. Positive alternatives
Programs that help people – particularly young people – stay away from situations that encourage use of alcohol, tobacco or illegal drugs, such as youth empowerment and leadership training, mentoring, and substance-free activities
4. Environmental strategies
Focus on policy and enforcement that reduce access to substances e.g. tighter zoning restrictions on alcohol outlets, stronger enforcement to prevent underage purchases of alcohol and tobacco products
5. Community-based processes
Organizing, planning and networking to increase the community's ability to deliver effective prevention, intervention, treatment and recovery services
6. Identification of problems and referral to services
Screening and referral to services
How has substance use prevention worked in Vermont?
The Health Department works with people at the state, community, school, family and individual levels to develop strategies that positively change communities. By evaluating prevention efforts in Vermont, prevention professionals can see how well the programs are doing to meet their goals and make positive changes in the lives of Vermonters.
Evaluation of substance use prevention programs shows:
No single approach works for everyone.
Among adolescents and younger children, a psychosocial approach emphasizing personal skills development and task-oriented training often reduces alcohol and other drug use.
Among adolescents at significant risk, individual counseling and family intervention show promise in affecting long-term risk and protective factors.
Among adults, changing the policies, regulations, and laws to alter the community environment reduces alcohol and other drug misuse
Sensitivity to, and inclusion of, the cultural values of the community enhances effectiveness.
The most effective prevention efforts include strategies and services across multiple environments to support a comprehensive approach toward preventing and reducing alcohol and other drug use.