Addressing Alcohol & Drug Use in Medical Settings
Screening, brief intervention and referral to treatment in a medical setting such as a primary care office, hospital emergency department, or community clinic is a comprehensive, integrated, public health approach to identify patients with substance use disorders and those at risk of developing them with the goal of reducing and preventing related health consequences, disease, accidents and injuries.
This approach also allows medical providers to form closer relationships with the substance abuse treatment providers in their area, developing a 'warm hand off' protocol for patients who need treatment.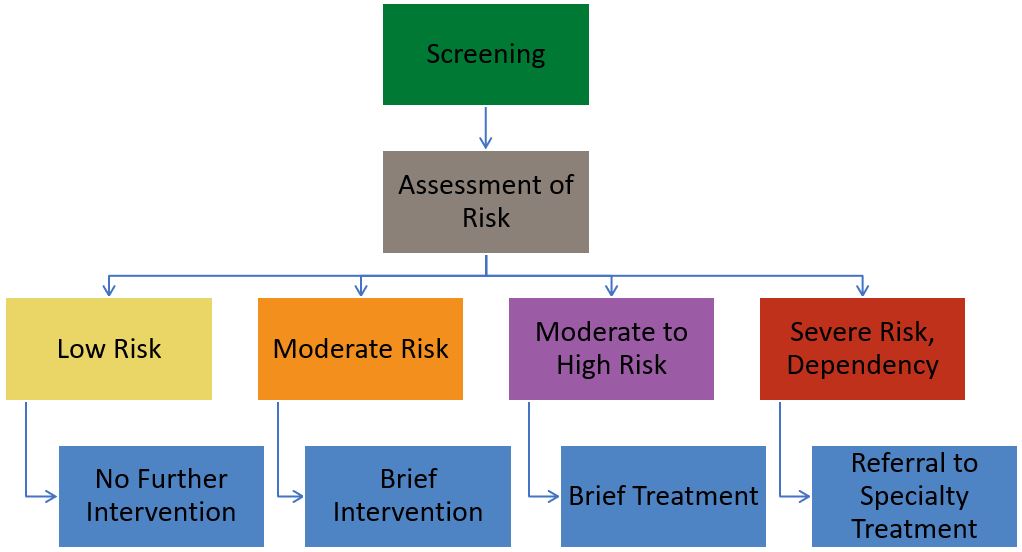 Screening & Assessment of Risk
Screenings should occur with every patient annually and at the time of need as determined by a medical provider. Screenings indicate a patient's risk for substance use disorders and/or other mental health disorders.
Assessment occurs after screening and consists of gathering more in-depth information for determination of a disorder or a risk of developing a disorder, as well as the development of a treatment plan, if necessary. Mental health and substance use disorders are assessed in the context of each other.  The goals are to:
Determine the presence or absence of a disorder and co-occurring disorder
Determine the individual's readiness for change
Identify the individual's strengths or problem areas that may affect the processes of treatment and recovery
Begin the development of an appropriate treatment relationship
Brief Intervention
Brief intervention, also called a Brief Negotiated Interview, is a semi-structured interview process based on motivational interviewing and can be completed in 5−15 minutes. This type of conversation with patients has been demonstrated in multiple peer-reviewed studies to be effective in facilitating positive health behavior changes.
Brief Intervention/Brief Negotiated Interview Tools
Brief Treatment & Referral
Brief treatment can be provided by the medical provider or a behavioral health clinician. For patients with more severe risk or dependency, referral to treatment and recovery services may be necessary.
Brief Treatment/Referral to Treatment Tools