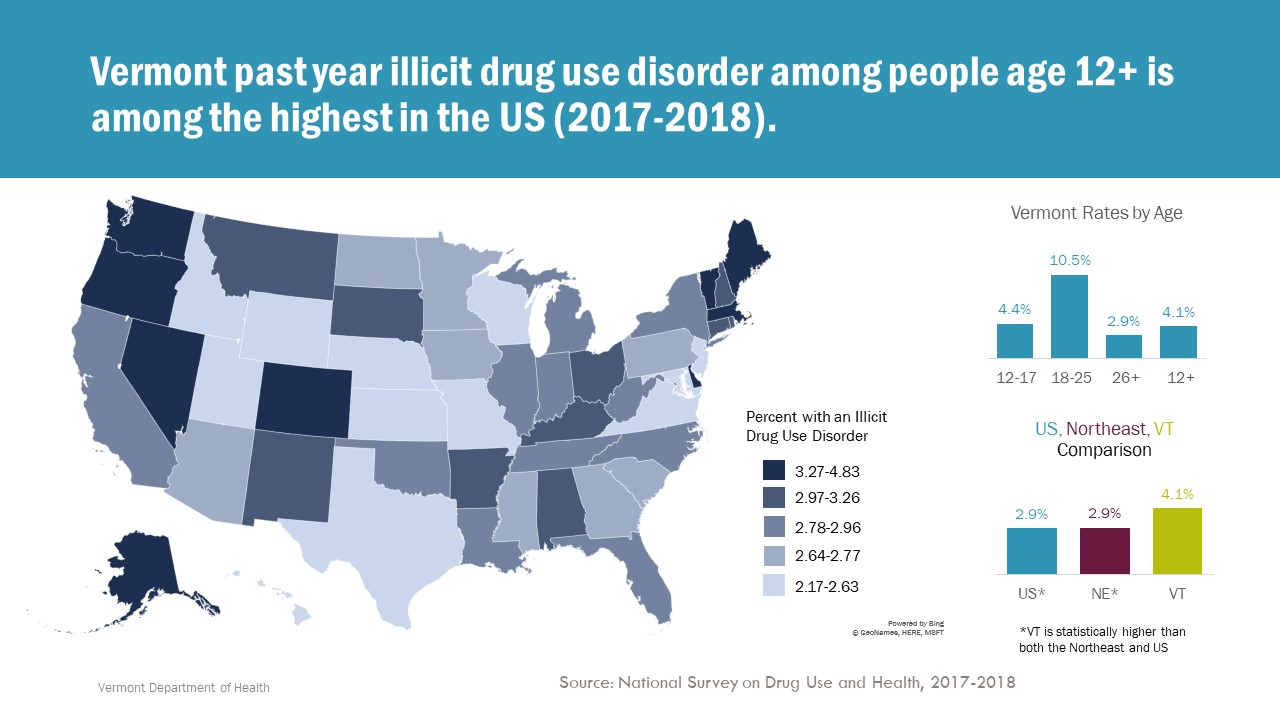 National data shows that Vermont has one of the highest percentages of illegal drug use in the country. The illegal drugs these data examines are:
Using illegal drugs can cause harm in a person's life after only one use, or "experimenting". In other cases, harm can be caused after a long period of use and high dose use. Diseases like stroke and cancer can be influenced by drug use, making it easier for Vermonters to get sick if they use drugs.
It is important to look at the reasons why more Vermonters are using illegal drugs than citizens in most other states. The Department of Health is monitoring how our efforts are making a positive difference with illegal drug use, especially among young people in Vermont.
Treatment is Available
If you or someone you know needs help with marijuana – treatment is available! Treatment is effective and people can recover.
For free and confidential alcohol and drug support and referral services, call 802-565-LINK (5465) or visit VTHelplink.org.
Talking With Your Kids
It's never too early to start a conversation with your kids about drugs and alcohol. When young people have supportive adults in their lives, they are much less likely to use drugs. Open, honest conversations are the best way to influence their behavior.
Here are some tips!
Start the conversation early to get ahead of the conversation.
Be clear, direct, and specific.
Have an ongoing, two-way dialogue.
Focus on their goals and explain how drugs can get in the way.
Stay positive.
For more tips visit ParentUpVT.org.
For more information visit:
Safe and free prescription drug disposal
Learn how to safely get rid of unused or expired prescription medications through Vermont's prescription drug disposal system.
Data and Related Resources
Data and Reports: Information on opioid and other drug misuse, abuse, and dependence in Vermont.
How We Are Doing: Learn more about goals and outcomes being tracked in Vermont.