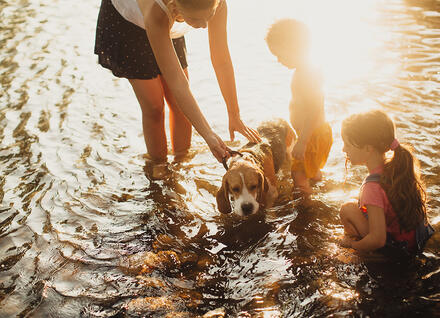 Cryptosporidiosis is an illness caused by a parasite called Cryptosporidium. People can get infected by swimming in water contaminated with the parasite, having contact with animals or with people who are already infected with Cryptosporidium or by eating food/drinking liquids that have been contaminated with Cryptosporidium parasites. Symptoms typically begin two to 10 days after infection, and can include watery diarrhea, stomach cramps, nausea, vomiting, fever and weight loss. The illness typically lasts one to two weeks.
Cryptosporidiosis in Vermont
Between 2010 and 2015, an average of 45 Vermonters per year with cryptosporidiosis were reported to the Vermont Department of Health. The rate of Cryptosporidium infections in Vermont is similar to that found in the rest of the U.S. In 2014, the average of rate of cryptosporidiosis across the country was 2.4 infections per 100,000 people. That same year, Vermont's rate of infection was 4.0 infections per 100,000 people.
What to do if you get sick with cryptosporidiosis
People who may be sick with cryptosporidiosis should contact their health care provider so that they can be tested and treated. Since Cryptosporidium parasites can also be passed from one person to another, people with cryptosporidiosis should stay home from school or work – particularly if they are a food handler, health care worker or day care provider – until their symptoms have been gone for at least 24 hours. Frequent and thorough hand washing with soap and water is also an effective way to prevent the spread of Cryptosporidium.