Chronic disease is the health challenge of the 21st century. The tragic consequences are all the more frustrating because preventing these diseases is a winnable battle. To understand 3-4-50 in Vermont, it helps to see some of the data on these behaviors, diseases and deaths.
Interactive maps
Explore our interactive maps that quickly show the impact of 3-4-50 in Vermont.
data briefs
Statewide Data Brief
County Data Briefs
Local Health Office Data Brief
Cost of chronic disease in vermont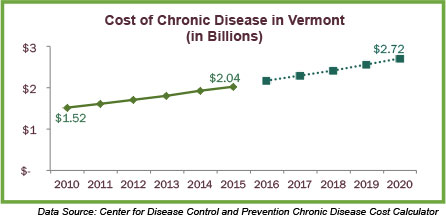 Chronic diseases affect the quality of life for Vermonters as well as Vermont's economic future.
Chronic diseases are projected to cost Vermont over $2 billion in health care costs this year alone.